Hey Stitchers!
Op-shop week has come by again, this year on the last week of August. I say this because, as you know, recycling fashion is my favorite thing ever. After sewing, of course.
The more I have focused on these two things this year – the more I've come to see how much you can make, save, and look like a million bucks. Love it.
There's lots about my recycling/upcycling stories to date here and here but the big year of buying only recycled clothes is officially 252 days in. It's brought me to op-shops a lot more, of course, and so I've found a load of absolute gems! I get so many comments on my recycled items, too! So in today's post I want to share a few recycled items with you, my favorite spots for an op-shopping frenzy and my one main tip on how to find that diamond in the rough.
Winning at op-shopping is really simple. All you have to do is:
Choose name brands or good quality. You will likely find the two are combined.
Only buy stuff in near new condition. The older and more vintage the better! Woop!
Look out for jumble sales, garage sales, car boot sales. Direct from original buyer!
If you have time, stop at every op shop you pass. This is the key. The more op shops you visit, the better your chance of finding that rare gem! (I literally op-shop all around the world)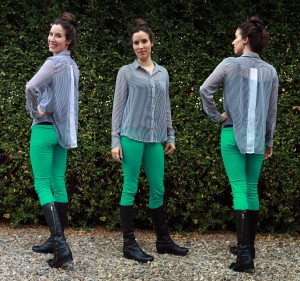 Top: Emerge striped top from Redcliffe lifeline. $4
Bottom: Green JAG jean from the brisbane suitcase rummage, at the Powerhouse. $8.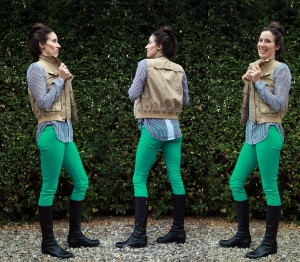 Jacket: Ralph Lauren from a co-op, East Vancouver. $4.
Brisbane peeps, this is for you – on top of the op-shops all over town, there are those amazing markets and rummage events to keep an eye out for:
Boudoir Bazaar fashion market – Red Hill Broncos Leagues Club.
Suitcase rummage – Moves around Brisbane, QLD and Australia.
Wardrobe warrior markets – Mt Gravatt Showgrounds.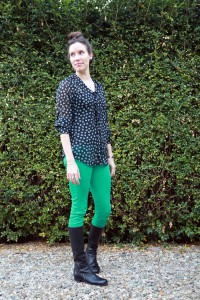 Top: Love heart Dotti top from the West End Vinnies. $4.
One of my favourite recycled outfits worn to problogger… I wanted to see how much the skirt would flare 🙂
Top: The stripey long sleeve was a sportsgirl number and the denim top was a refashion here
Bottom: Faux leather French Connection skirt from Vinnies at Redcliffe. $6.
What I love about a good op-shop score is how useful it can be for a repurpose project. You might remember I was talking about how much I wanted to refashion an old leather jacket into a cute mini? Welll… this week I found the perfect jacket to chop and change at a Salvos near to me.
Jacket modelled here, all ready for that project because um… ugly much? Cool, cos here comes the reveal.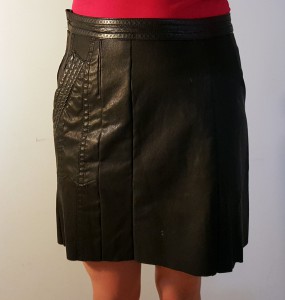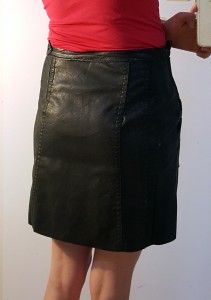 Next week I will provide a how to guide to refashion your very own.
Want to know where the good op-shops are? I definitely have my favourite little secret squirrel spots, but here you can find the stores local to you!
Let me know what you think of my DIY skirt, love it or hate it??