Hey Beatiful People!!
Well! TODAY is my six month shopping abstinence anniversary. Can you believe it? I haven't bought one outer wear item new from retail since the first of January!!! It's gone by so quickly. Well, sort of….
I admit it's been hard sometimes. Especially if I'm feeling a bit down about something. Gosh. In the bonds outlet…. I wanted this plain tee. T-shirts are not something I have thought of making. They're like $5-$15, so why would I sew one of these? I totally loved this casual simple tee. That's the only time I've nearly nearly broken my vows. Really. The rest of the time, the urge passes by quickly. And why wouldn't it, with all those vintage pieces hiding in op-shops all over town?!?
You know, I did  buy a pair of new black stockings with purple polka dots on them… but now I just rock them in the house as they aren't see through. I don't wear them as 'underwear' though, which was the original plan. So I'll leave it with you to decide if I'm a cheater..
Anyway – STILL GOING STRONG…. most. of the time.
…
THE TRUE COST – A documentary film.
A couple of weeks ago, I had the most powerful reminder of why I pledged to not purchase new clothing. Undress Runways is an amazing fashion project I have been following because I love the fashion industry awareness raising they do, and how they do it. They held a premiere screening of the documentary True Cost, a film that exposes the hot mess that is the global fashion industry's manufacturing practices – which are really just modern day slavery mixed up with good old fashioned toxic waste dumping.
Let me give you some quick background on me. I used to be a solid shopaholic. I loved it. But these days, I just can't unknow what I know, which means I won't purchase cheap clothes. I'm no hero, I just think we are all equal.. no-one deserves slave conditions just so I can wear a certain outfit. Most of us have a vague awareness that the little people who make our things work long hours for next to no pay (which makes it all the worse, right?) but this movie took the audience to a whole new level.
Get this: the fashion industry is the biggest polluter in the world after oil. This is because cheap clothes are destined for landfill after a few wears, but also because our major brands take advantage of weak environmental legislation in developing world nations like Bangladesh and India. Dangerous chemicals the industry uses – like for dyeing, bleaching or tanning – are just dumped straight into rivers and lakes that families drink, wash and cook in. The film detailed widespread cancer plagues, physical deformity and child brain damage, and it hurt my soul to watch it.
Don't even talk about slavery. People work MASSIVE days in unsafe conditions (think building collapse) and getting paid $2, $3, $4 a week. I must have cried through 3/4 of the film as it detailed the sins of the fashion industry and the struggle of the brave women who are being beaten senseless for asking for a fair go.
Our clothes are too cheap to be true. I guarantee someone is suffering for that cute little top in the shop window. Think on it.
…
THIS WEEKS MAKES!
I have so many projects on the go at the moment – I can't wait to share them all with you. This week I'm talking about an outdoor setting I revamped.
So, we have this wooden table and matching director's chair outdoor setting that was looking a little sad. You know, the finish on the table was all messed up and the canvas on the chairs was stained from use. My bf got in there, sanded, varnished and brought the beauty back to life. He's a spunk, I tell ya.
But still.. that material looked so sad and boring! So I decided to do what I do best. I had some left over material from a foot stool I made years ago and decided to cover the chairs to match the beautiful new table.
This week is a sneak peek – next week I will have the finished product and a how to guide on how to do this yourself!
BEFORE…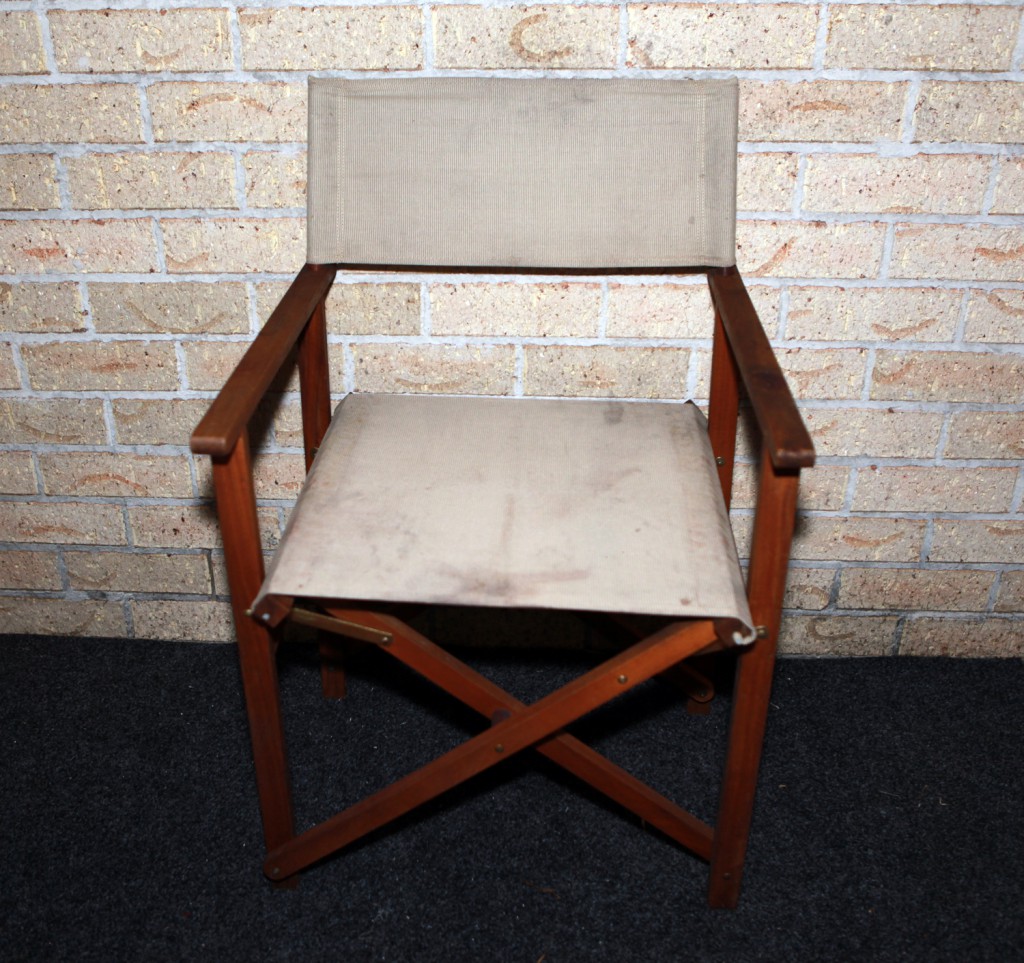 AFTER>>>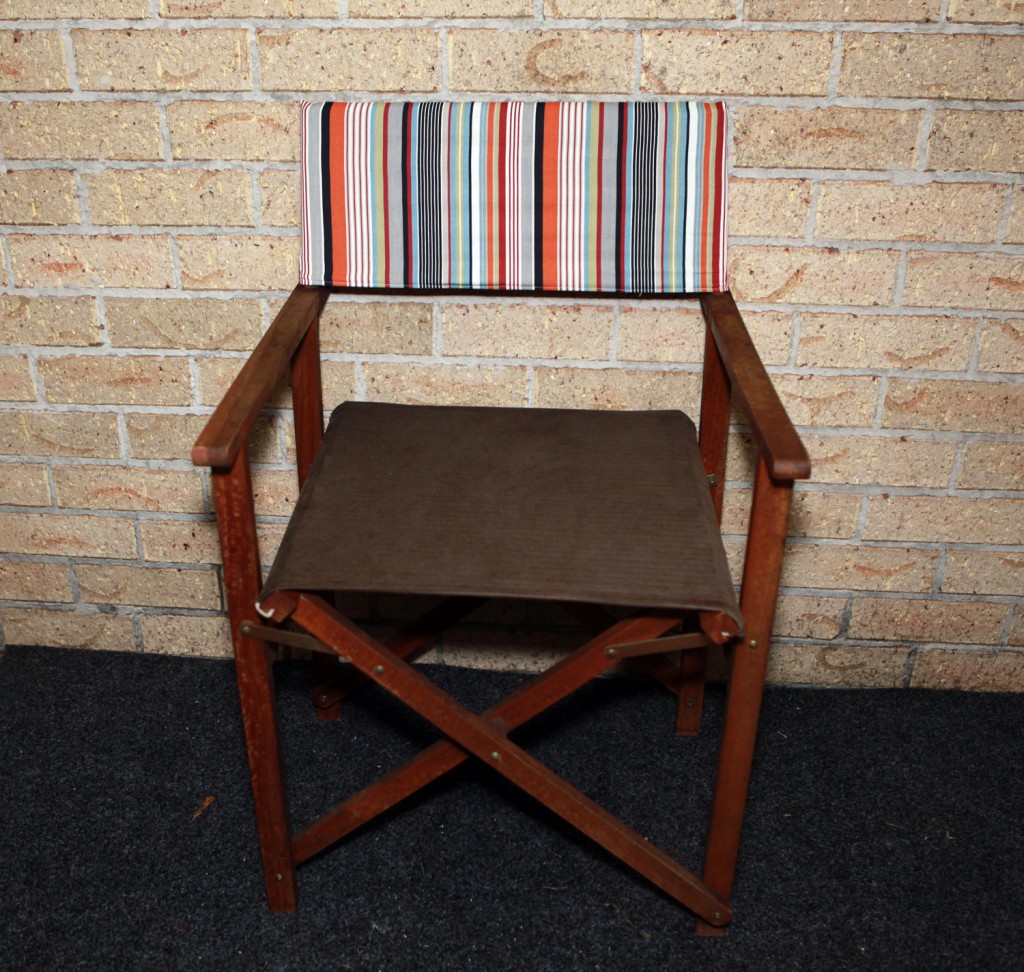 Ker-ching!!! Such a huge difference, hey?! This is seriously so simple to do yourself.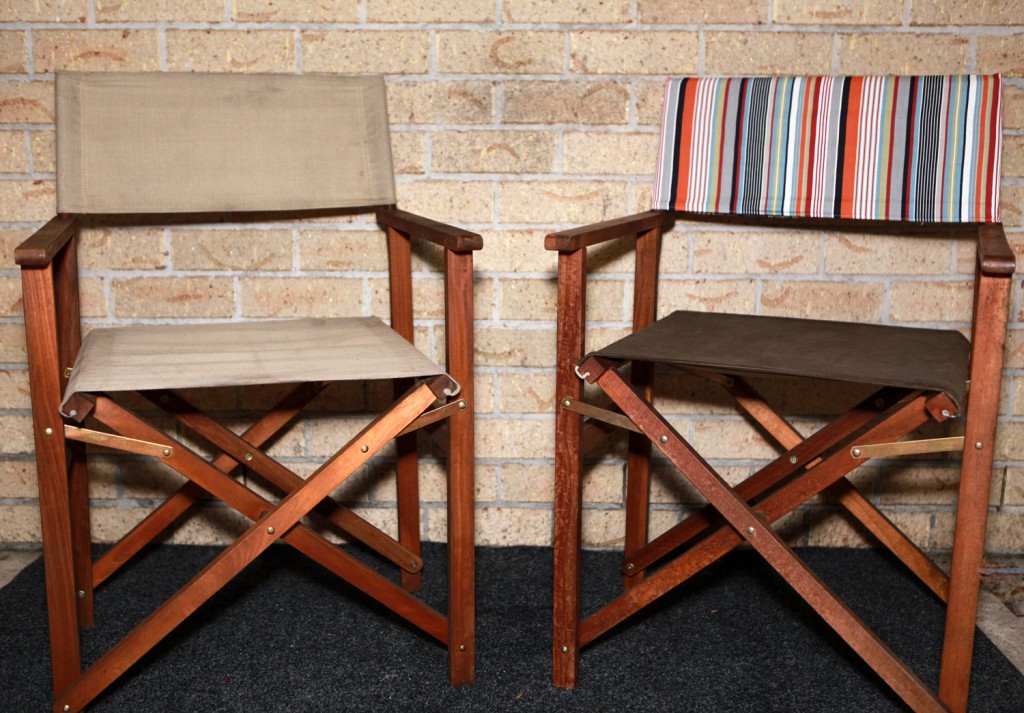 Stay tuned – next week you'll have the directions to do this baby yourself!
So big love to Edda at undress runways for slipping me tix to the premiere of True Cost. You're an inspiration, and I wish goodness and love for your crowdfunding campaign and label launch – Vihn. Check it out and support this amazing campaign.
Waste not want not
Xxxx