Hi Stitchers!
Great to see you again! it's so good to be back here among the leaves!
Where have I been? Why did I disappear? Welllll, for a while there, life got busy. Like, really busy.
Lame excuse? Not this time! It wasn't planned so, but a bunch of MASSIVE life events got pretty much squeezed into the second half of last year.
So, the boy and I:
1) bought a house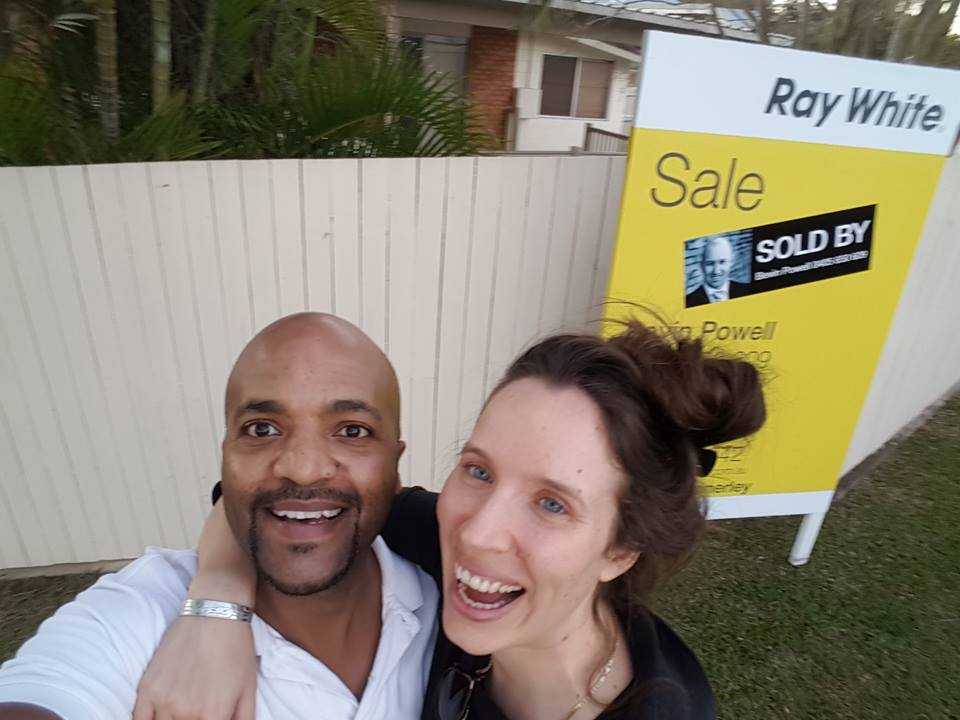 2) got engaged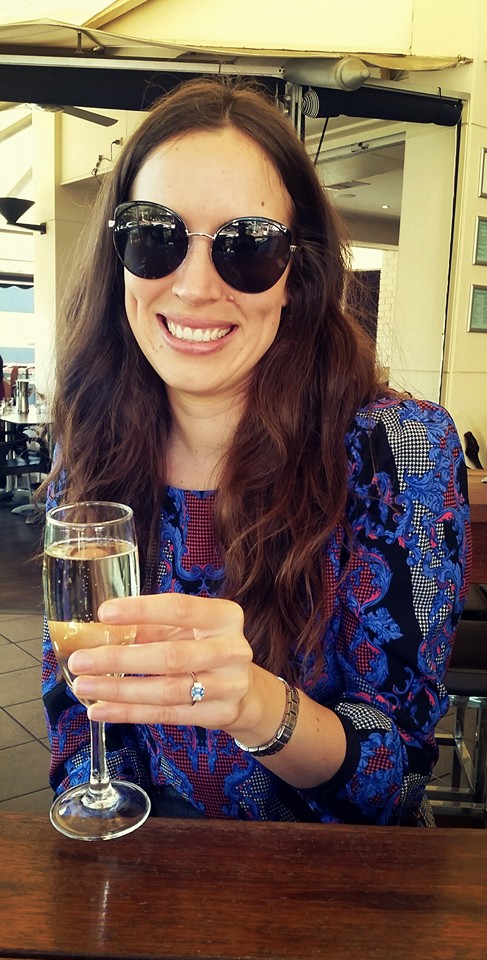 3) renovated said house (with cute fiance) and the best Mum a couple could have;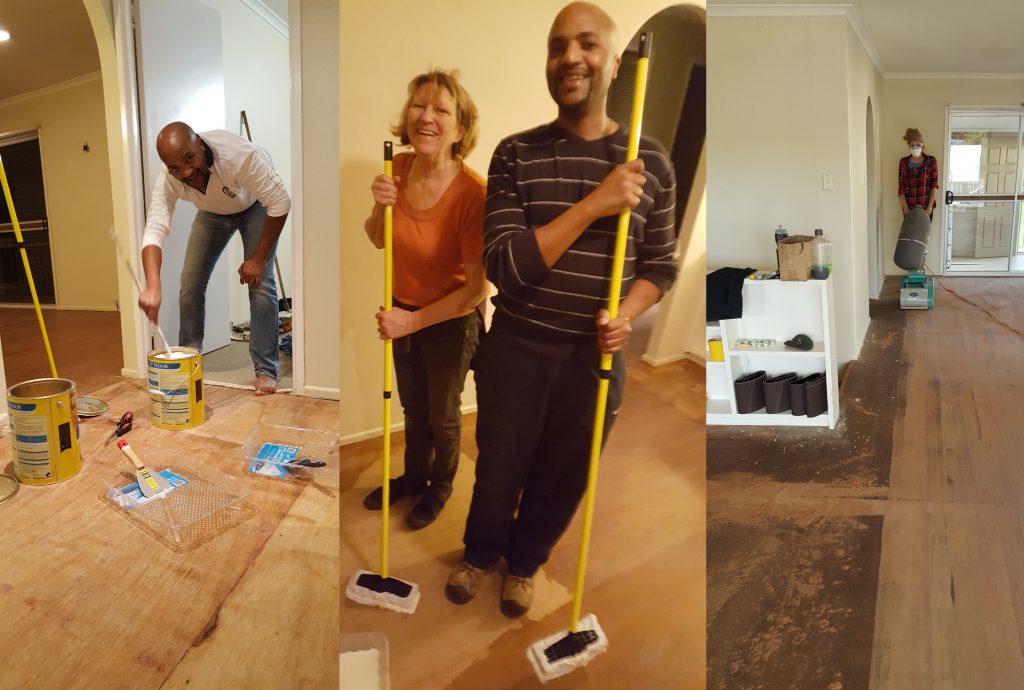 4) bought a doggie and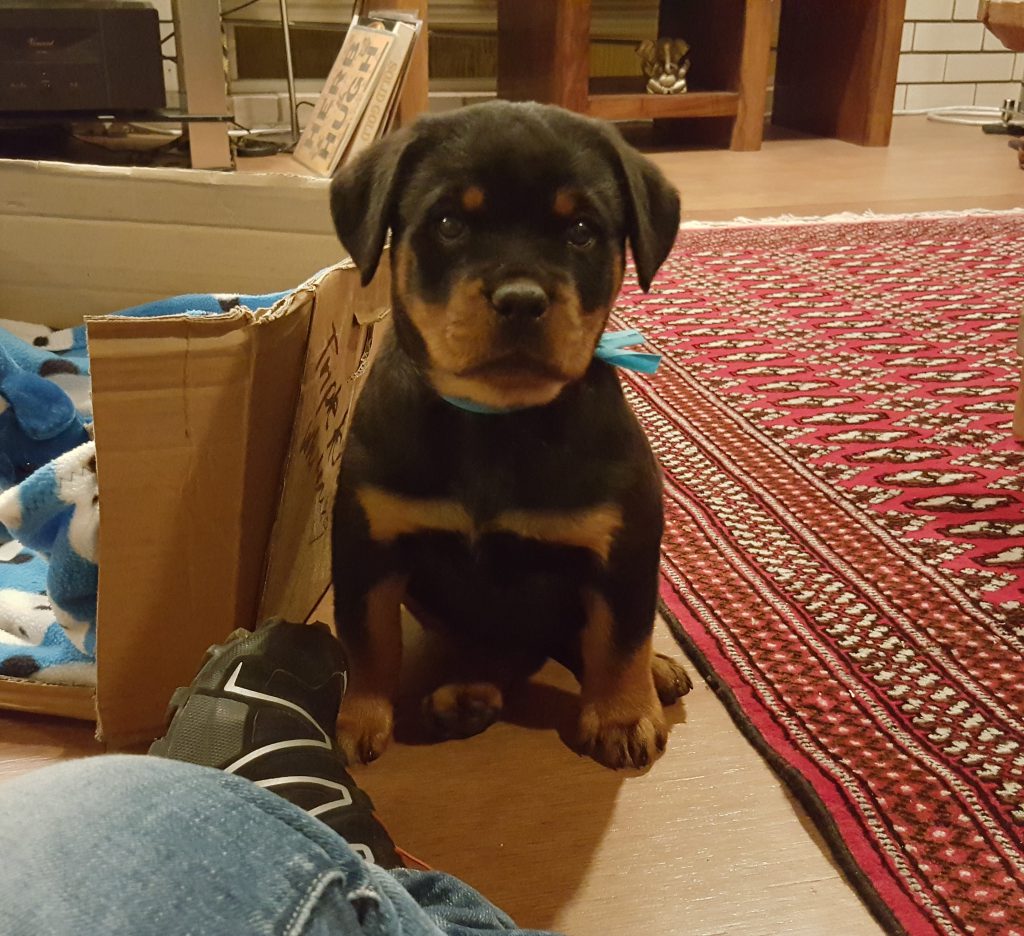 5) got married (at our engagement party, surprise!!)…. Allllll within 6months.
Did I continue sewing this whole time? You bet. I did enjoy a bit of space and time away from Among The Leaves but I missed sharing my makes with you guys, too. So I thought what better way to come back here than to share a bit of our wedding story with you! So firstly, let me introduce my husband, Tom! The loveliest person I know. And bit of a spunk, amirite? (and fetching me a drink. Love him)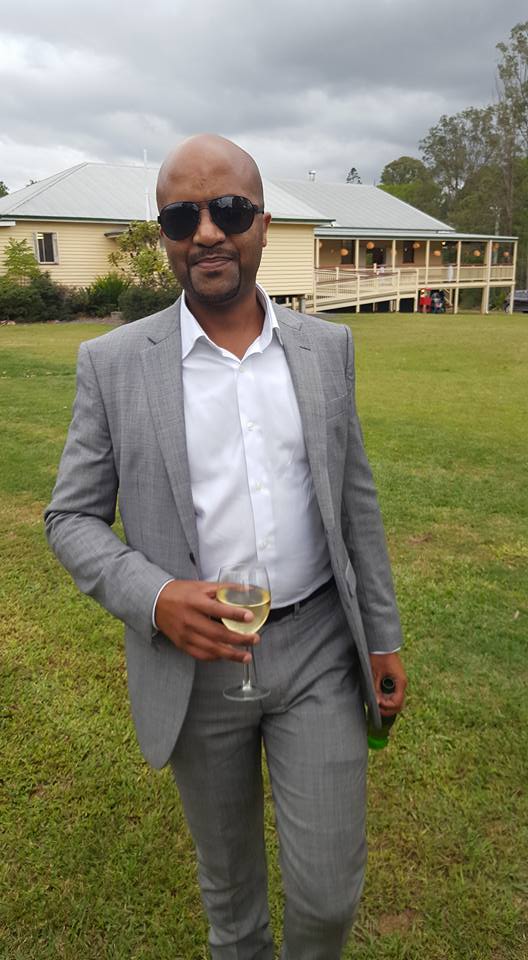 True to our form, we wanted a low-key, chilled out event. Pretty much how we do everything in our life, and that to us means especially our wedding. Over the years I wasn't ever really sure I wanted a wedding, and mum and I had words around it being something I just didn't want. So there we were, sitting on the usual chill train and throwing around ideas about how we would 'do' the day. No big plans, no big fuss. And basically, no idea… except that we only wanted delicious food, delicious drinks and good music. Simple, no? Yeah, no.
Planning…
My mum decided she wanted to throw us an engagement party, and she suggested it for when my bestie cousin Dym was visiting us from farfarawayland over the seas where she's presently shacked up. We thought good idea, and a few days later the two of us realised we were both privately thinking why not get married while Dym is here with her man? Who knows when they'll be back, we asked, and we couldn't get hitched without her so… decided!
That gave us 7 weeks to plan our wedding. Plenty of time!
Secondly, true to form, we wanted handmade and homemade everything, and as environmentally friendly as possible!
So we decided we'd have an engagement party + surprise wedding in our just bought, brand new (to us) bachelor/ette pad. Not happy with the commercial catering options, we decided on self catering a BBQ dinner – our grillmaster and bar/wait staff were my brother Wade's chef friend Aaron and his fabulous wife Kayleigh who runs a local cafe. So, the amazing family, helped us by spending 2 days in the kitchen prepping salads and peeling garlic, ginger and potatoes. Love you, fam.
Some other basic details:
For the rustic look, our guest seating was about 30 hay bales we bought from a barley farmer just out of town. We were extra happy that we could use them to mulch the garden after our wedding.
We bought wine/champagne glasses from Ikea, knowing we could pass or sell them on, and plates and cutlery from local op-shops to avoid plastic.
We recycled wooden cable reel drums into barnyard tables surrounded by hay bales that we could, again, sell forward. Thanks to Johhny for helping us collect them.
I handmade a gorgeous recycled lace and material back drop for the ceremony (2 days before)…
Dried flowers were purchased and designed by Dymmie and her lovely guy Kyle, and have provided much life to our decor and beautiful memories in our house since the wedding.
Gorgeous girlfriends offered up cakes!
The dress….. Handmade with love.
4 weeks before the day (before Mumsy even knew it was a wedding!) I still didn't have material for my dress. She decided to come by with her material stash over, the whole suitcase of it, and in it was every imaginable fabric. Kid's stuff, crazy stuff, 80s stuff, polyesters, linens, cottons, prints, the lot! I was draping bits of this and bits of that for a good half hour before we found it what we were looking for – some gold and brown sequin material that had been in Mum's stash so long she couldn't remember how it got there. Even though it wasn't something I'd ever choose myself, I straightaway fell in love with it! It was just so perfect.
I knew almost straightaway, too, that there was a pattern I liked (don't remember where I got it!) that would work really well with the material. This was the one I used here, new look 6824.
No money can buy a beautiful individual handmade wedding dress, made between mother and daughter. It was, and always will be, priceless to me!
The day of….
Tom and I planned to have everything done and dusted for us all to have a chilled out relax in the hours leading up to the big event. Hilarious, I know. We didn't stop all day and were still getting ready as guests arrived.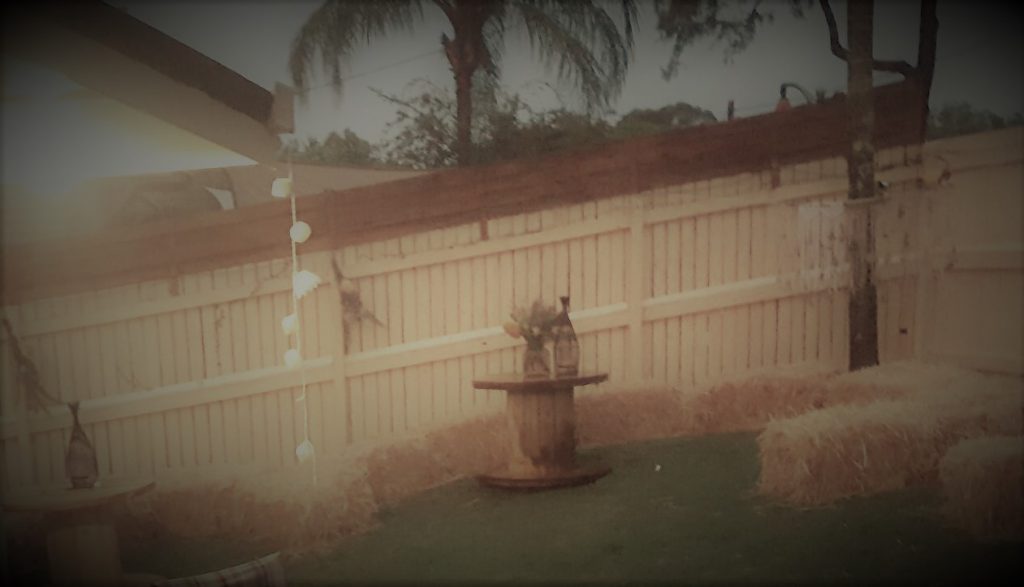 So firstly, it was a ridiculously hot day, the latest in a long string of ridiculously hot days. We died of heat exhaustion and dehydration in the setup process.
As the guests began arriving and things were kicking off, a severe storm warning began popping up on people's phones! Just like that, at 4pm… warning us a DOUBLE CELL THUNDERSTORM was 30 minutes away. Devastated!
The place was chock with people settling in and getting a drink as rumbling blue-black clouds started rolling close. Our outdoor setup including the bar, the live musician, the barnyard seating, all of it, looked about to get a hammering as more and more mobile phones pinged live weather alerts for a dangerous storm. So while the musician shuffled his gear indoors (small in-doors), Tom and I topped up our beverages and began to mingle.
The hiccup…
A lot of people who know us say we're a fairly relaxed couple.. and probably on this occasion a little too relaxed. We were supposed to go through an ID check and sign some documents a week before the event. That was rescheduled to 2 days before, then the day before but we were SO BUSY, it got to be half an hour before the ceremony. To keep the surprise a secret, the marriage celebrant parked her car (which has a huge advertising down each side) around the corner in the carport of an empty house that was for lease. We snuck out out and met her down the street, and were just getting set to sign things when ker-pow! The skies opened. Like, really opened – within a minute it was heavy sideways rain and gutters overflowing. We crouched beside her car where I was trying to keep my beautiful hair non-frizzy. If there is ONE thing I prayed for on the day it was NON-FRIZZY HAIR. Yep, pouring rain and curling frizzy hair had begun.
Being new in the area, we had only really ever smiled and waved at our neighbours in passing, and we had no idea they had the keys to the empty house we were sheltering in front of. We had mailboxed our end of the street to let neighbours know of our big party and surprise wedding, so Sigrid and Johnny knew when they looked at us across the street exactly the predicament we were in. Bless them, Sigrid ran over with umbrellas and opened the house up so we could keep dry inside! She then ducked back home and returned with her make up kit and hair iron so I could get a  touch-up. By this time we were ready to give them the naming rights to our unborn children.
I had even created a run sheet and my close family who I gave it to all noted, "how organized I was!"… and here we were, after all our prep, stuck 4 houses down, in part 1 of a double thunderstorm, in our neighbor's house with the celebrant mid-engagement party, pre-wedding ceremony! Completely laughable.
The day wasn't going to plan at all and we nearly cancelled the ceremony! Until we reminded each other, that life is imperfectly perfect.
So when the rain finally stopped, we walked home with the celebrant, got changed (and wedding make-up by my beautiful friend, Bec) and got the party started… again.
Instead of the planned ceremony in our yard, surrounded by beautiful trees and a lovely home made wedding-alter backdrop, we stood on our balcony and said our 'I DO's' as the second part of the thunderstorm did its best to steamroll our plans! It ended up, actually, all kinds of amazing. When I look back at these pics, my heart could burst.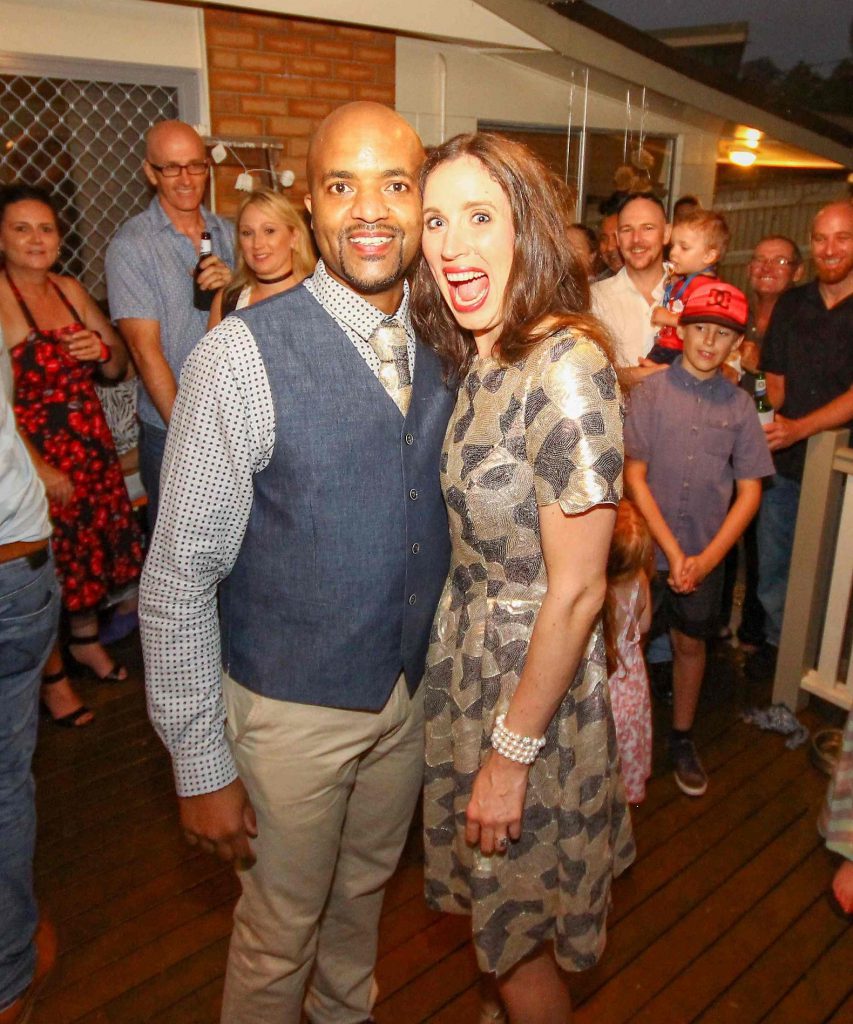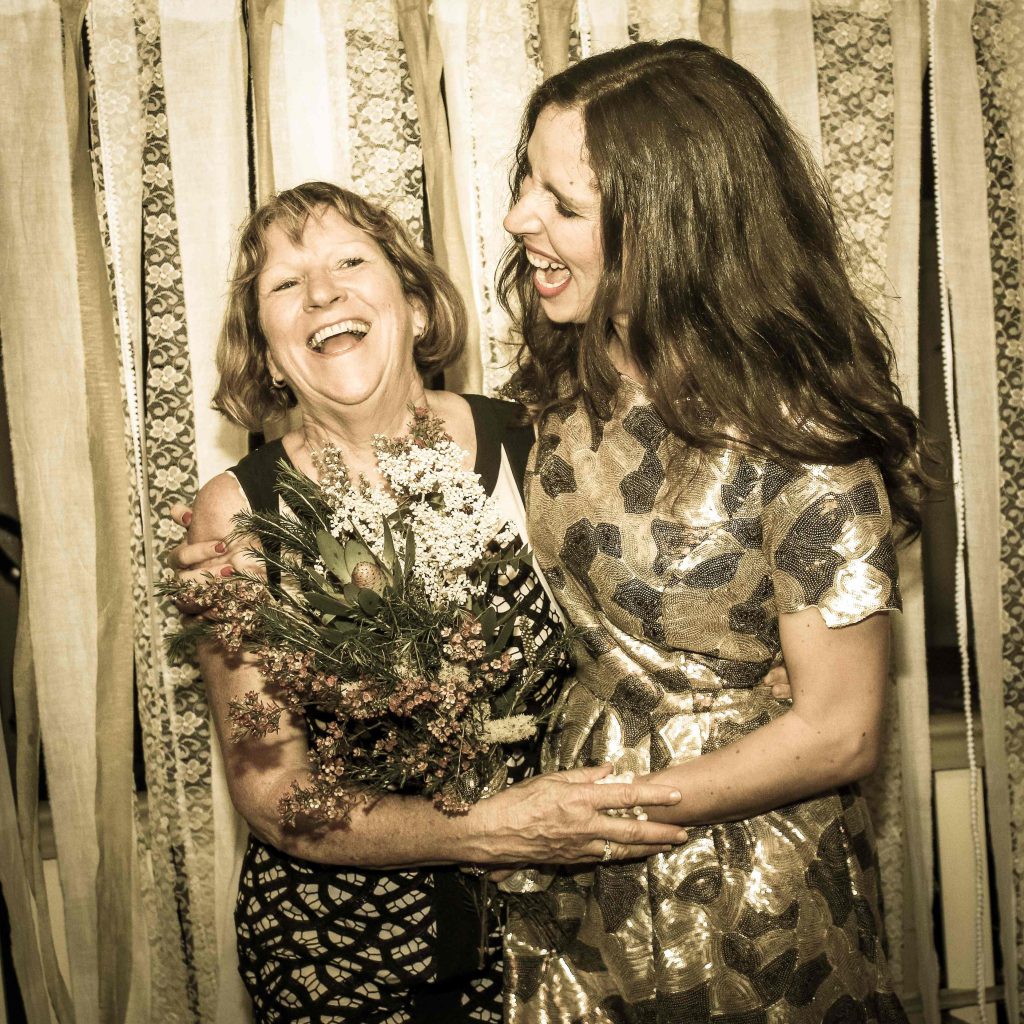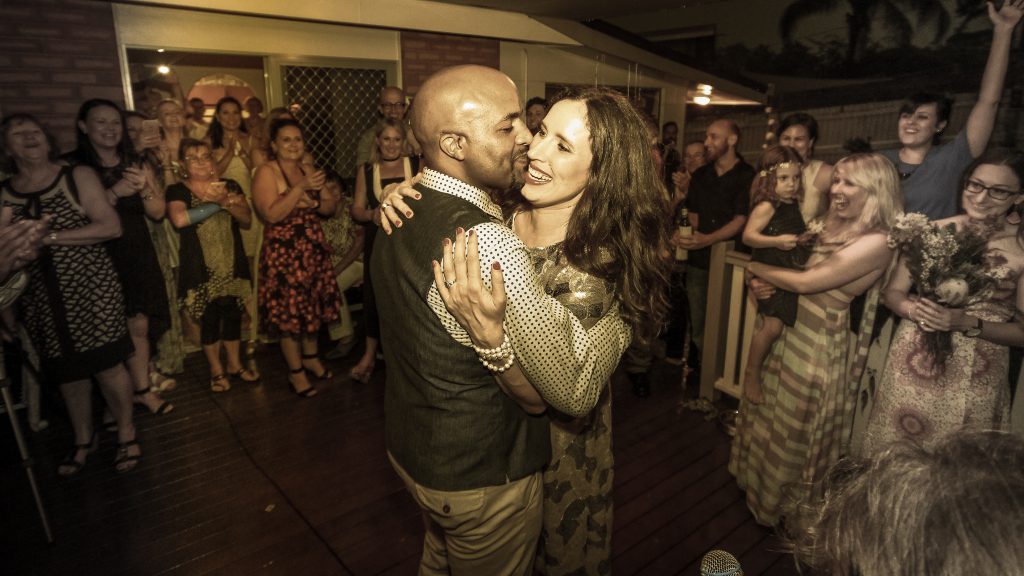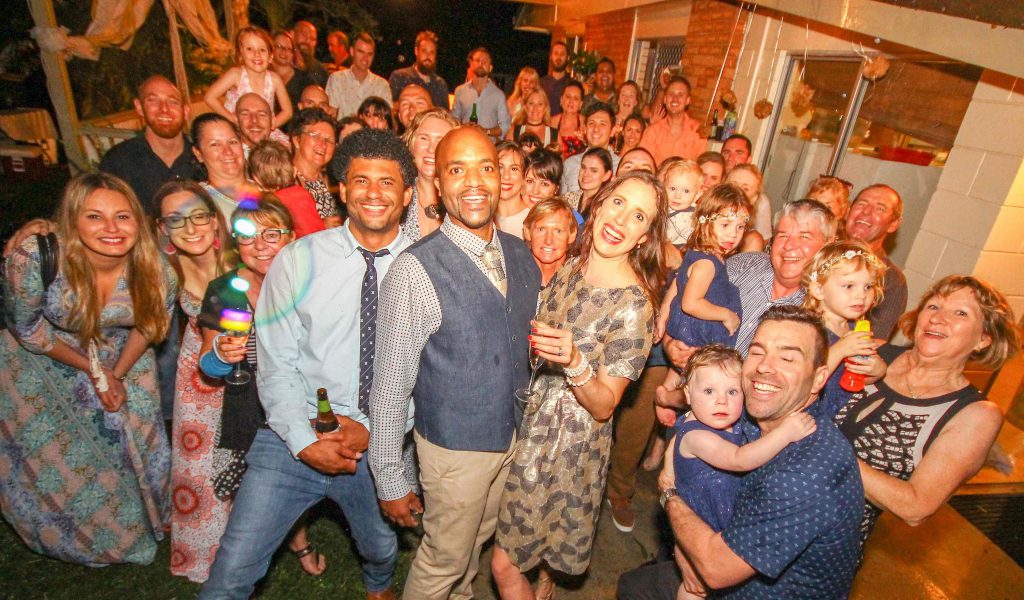 The best part? Definitely the leadup (cooking and organising) with friends and family. That was by far our favorite part of the whole thing. The energy, the fun, the drinks, the dancing…
Thank you family and friends for being apart of our crazy beautiful day,
Stay tuned,
Kris xx
Thank you to Paul Neil Photography! What a great dude he was, I would so highly recommend him. Visit him here