Today, it's all about the disasters.
Most people only see my beautiful finished sewing: a skirt, an dress or that awesome teepee… but, you know what? My sewing doesn't always work out the way I want or plan it to. So I'm here to share some fails with you, because my sewing and my sewing projects are not perfect.
Recently, I realised I'm outcome driven. During one memorable sewing project (maybe during a small meltdown) someone lovingly pointed out I'm looking to the end product and forgetting to enjoy the ride. I agree I actually can be more focussed on outcomes – and its not necessarily a 'bad' thing – but I saw how it makes me miss the process and the flow of sewing that I explained my love for here. Like, I love that part of sewing.
Its hard to get balance between flow and outcome sometimes – especially when I decide I need a new dress for an upcoming wedding, and it has to look perfect, and I have given myself exactly 2 days to make it!
Plenty of time, right?
So I learned how my self directed pressure to perform; to do things super quickly without taking time to stop, look and think how to do it; and maybe a little bit of perfectionism (yikes!) makes things go sideways. Real quick, like. And then there's lots of unpicking.
That's fine, except at the time those failures feel a bit awful. So much frustration! Why do it to ourselves?!?
SO here is what I now try to remind myself about before I set off on a sewing session:
1) BREATHE and slow down. Pretty simple, really.
2) Enjoy! The creative process includes lots of learning and growth.
3) Sh!t happens!! It's a great mantra when that mean-eyed perfection monster starts looking at a crooked hem, or the mistake monkey jumps on my back. I do my best, in those moments, to remind myself to let it go. Breathe!
Truth be, sometimes I'm surprised sometimes when my garments don't fall apart mid-wear!! If it's something I really rushed, I'm happy if it passes the washing machine test! Not kidding.
4) It's a serious skill – be cool with where you're at!! I try to remind myself that while I'm not the worst around, I'm not a pro. Like any skill, I'm here to practice practice practice and just give it a go. Of that will come a few duds and a few very proud moments.
So, let me share some of my FAVORITE duds with you for a laugh! In no particular order:
1. The tragedy of the Tutu
Some things just don't go to plan. This Tutu was a present for my neice. She decided it's better as Princess-rated headgear. The problem was the weight of the plastic material – it was too heavy and coarse to ruffle properly. Should've got the light stuff! I couldn't stop laughing at this inventive little creature and loved that she turned it into a crown 🙂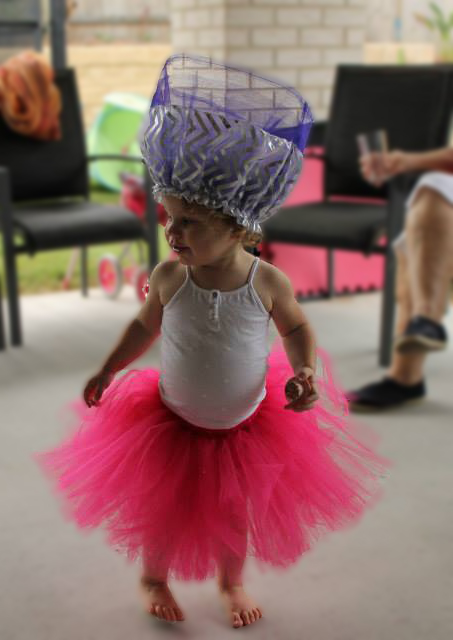 2. The Shenanigan of the Sheet.
You remember the sheet dress? Well… I had some left over material, and wanted additional length on a shortish dress so I could pull it off at work. You can see where this is heading. I added a flamenco look that didn't survive the mirror test. I hated it! Totally not my style, and for me a sewing fail. Like I said, sometimes it goes sideways. It's now back on the project pile ready for attempt number 2… I'll share the finished product with you.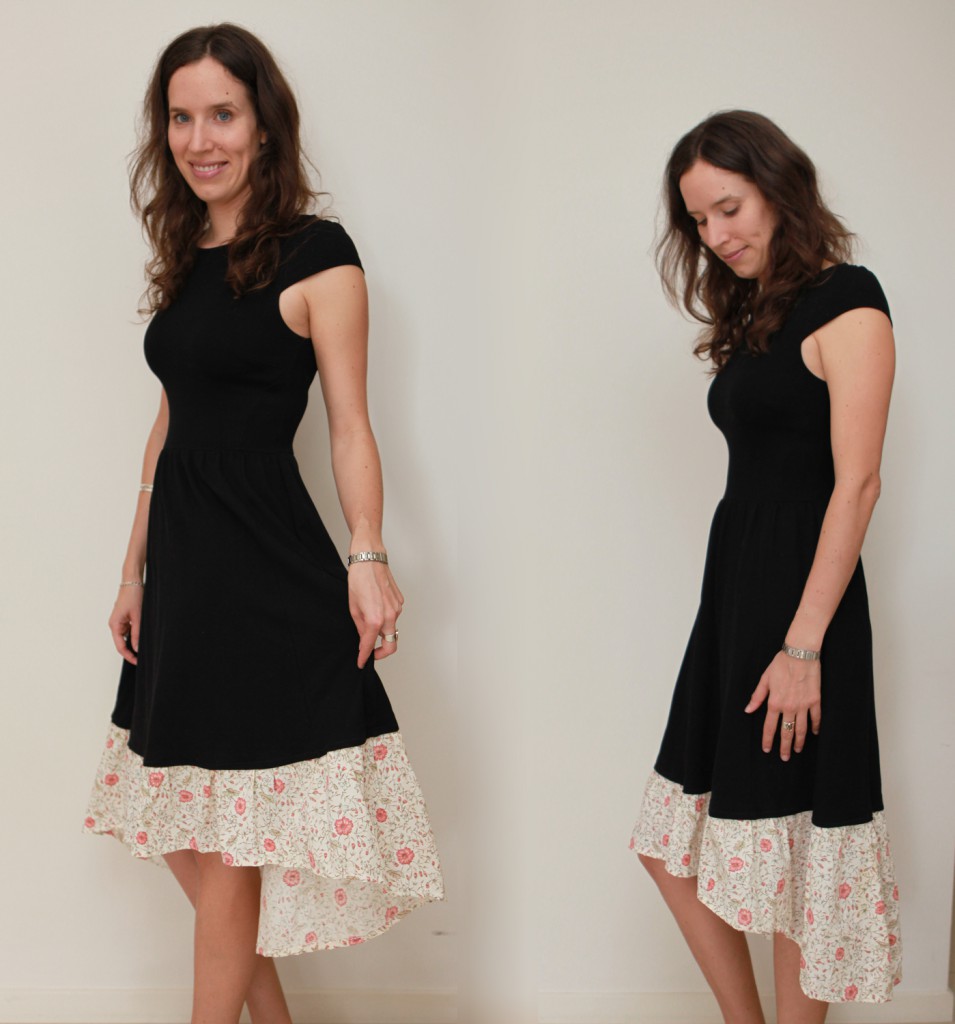 3. The neverending story of the neckline (and darts)
This, I'm sad to say, was one of the best made dresses I've sewn. Really.
I just didn't get that finished feeling each time I looked at the neckline. It was a kind of awkward in-between neckline that wasn't low but wasn't collarbone high either. It just sat there, like a middle child (sorry Wade).
Being honest, my friends said the neckline worked. I thought it broadened my shoulders, which I don't much like. So! The neckline got the chop, and I went at the front darts too.
I cut the neckline into a low rectangular plunge that ended up stretching the material, and looking no better anyway. Fail. And the darts? While unpicking I accidentally caught the material and ripped a hole into the fabric. Fail again.
This sad tale is on the project pile now too, waiting to perhaps become a skirt.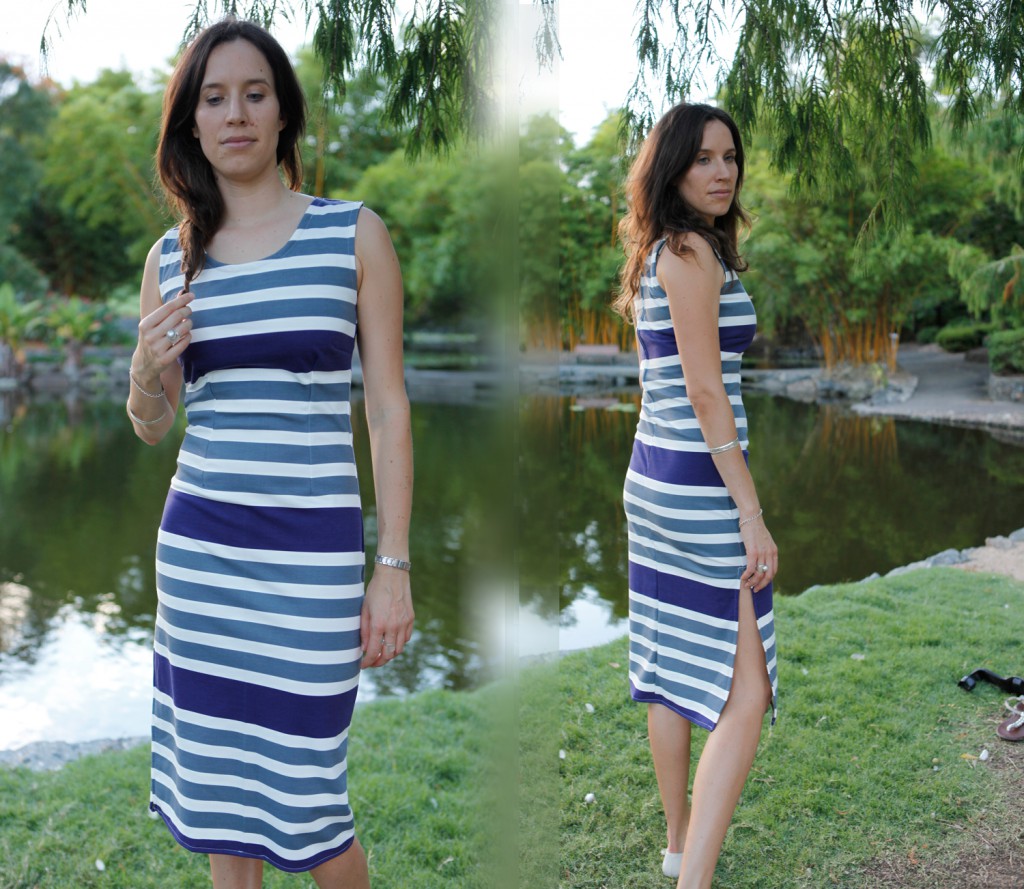 Ah its the sewing life. Lucky I love it!